Garage Door Openers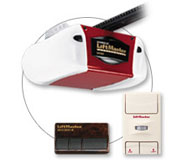 Liftmaster Estate Series Belt Drive 3/4 HP 3585
The ¾ HP belt drive opener features their powerful motor. The heart of the 3585 drive system is its revolutionary belt. The dependable heavy-duty system provides steady performance and lifting power to quickly and safely open heavy garage doors. Ultra-quiet, it also features their patented Motor Vibration Isolation System. (MVIS)
TriloG™ 1500
The new TriloG 1500 provides intelligent design for the homeowner that wants maximum power and speed with superior design and the ultimate in conveniences to fit their busy lifestyle.

Key features include:
1 HPc * 140 Volt DC motor provides power to operate almost any residential garage door.
Maximum opening speed of 12.0 inches per second ** to provide the ultimate in fast performance.
Delivers maximum lifting force and greater reliability.
Integrated motion detector provides added convenience and security to the two 100 Watt bulb lighting system.
Pre-assembled rail is ready to install. The lightweight power head allows for one person installation.
SmartSet™ programming: Push button programming makes set up fast and easy.
Auto Seek Dual Frequency System will automatically seek either the 315 or the 390 MHz frequency produced by a remote, ensuring opener will respond regardless of nearby frequency interference.
GenieSense™ Monitoring and Diagnostic Technology: Delivers the power needed at every movement of the garage door and continuously monitors the operation of the door, stopping operation when significant changes occur. These features minimize noise, wear and tear on the door and improve overall safety.
Comprehensive Safe-T-Beam® system meets or exceeds all UL, state, federal and CSA regulations, and incorporates an auto reversing system and diagnostics.
Genie Intellicode® 2 technology, a new generation of superior encryption, prevents unauthorized persons from opening your garage door by automatically changing the access code every time you use it.